Researchers have discovered a link between tissue repair, mitochondrial metabolism, and macrophage activation and function (scavenger cells). A Cologne-based research team discovered that the metabolism of mitochondria, the energy suppliers of cells, in macrophages coordinates wound healing to a significant extent. Macrophages are white blood cells that are also known as scavenger cells.
Professor Dr. Sabine Eming and her colleagues at the CECAD Cluster of Excellence for Aging Research at the University of Cologne demonstrated that wound macrophages undergo different metabolic programs during tissue repair, which are required to support the successive phases of skin reconstruction after injury. The article 'Mitochondrial metabolism coordinates stage-specific repair processes in macrophages during wound healing' has now been published in Cell Metabolism.
Macrophages in the human body can be activated in a variety of ways. In the early stages of wound healing, pro-inflammatory macrophages kill bacteria or viruses and initiate a protective defense response. Late wound healing reparative macrophages aid in the resolution of inflammation, allowing the tissue to build up and equilibrium to be restored. What signals are required for the transition from inflammatory to reparative macrophages is an unanswered question in macrophage biology.
Based on our findings, it will be very interesting to see if disturbed mitochondrial stress in immune system cells contributes to aberrant inflammatory responses in the skin and pathological wound healing states. It will also be interesting to see if pharmacologic intervention in mitochondrial stress responses provides therapeutic benefit and facilitates tissue repair.

Professor Dr. Sabine Eming
Eming, senior physician at the Department of Dermatology and Venereology and research group leader at CECAD and the Center for Molecular Medicine Cologne (CMMC), and her colleagues established a functional link between tissue repair, cell metabolism, and the activation and function of tissue-repairing macrophages in the new study. Changes in mitochondrial metabolism are a critical control mechanism for macrophages' various functions during early and late wound healing.
The researchers investigated the metabolism of macrophages in the early and late stages of wound healing using an animal model. They discovered that early sugar metabolism is insufficient to ensure productive repair. The researchers discovered that a subpopulation of early-stage macrophages metabolizes reactive oxygen radicals produced in mitochondria as a byproduct of cellular respiration using single-cell sequencing.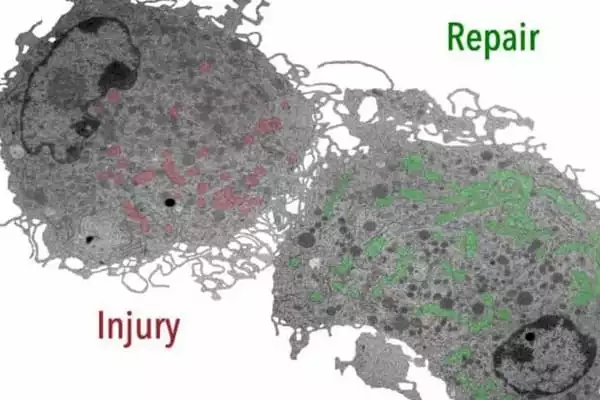 Several cellular events associated with wound healing have been identified by researchers. Platelets, neutrophils, macrophages, and fibroblasts are the main players in the process. They produce cytokines such as interleukins (ILs) and TNF-α, as well as growth factors, the most important of which is platelet-derived growth factor (PDGF). Cytokines and growth factors influence the healing process's inflammatory phase. Cytokines attract white blood cells and fibroblasts, whereas growth factors stimulate fibroblast and keratinocyte proliferation.
Inflammation is followed by fibroblast proliferation, which results in the formation of the extracellular matrix. Simultaneously, various white cells and connective tissue cells release matrix metalloproteinases (MMPs) as well as tissue inhibitors of these metalloproteinases (TIMPs). MMPs remove damaged structural proteins like collagen, while fibroblasts lay down new extracellular matrix proteins.
Fluid collected from acute, healing wounds contains growth factors and stimulates fibroblast proliferation, but fluid collected from chronic, nonhealing wounds does not. Fibroblasts from chronic wounds do not respond to chronic wound fluid, most likely because these wounds' fibroblasts have lost the receptors that respond to cytokines and growth factors.
Eming and colleagues demonstrated for the first time that the benefit of reactive oxygen-containing molecules in early wound macrophages is critical for ensuring blood vessel growth and, thus, timely healing. In the late phase of wound healing, macrophages, on the other hand, use a different type of mitochondrial stromal exchange mediated by specific receptors to perform anti-inflammatory and reparative functions.
'Based on our findings, it will be very interesting to see if disturbed mitochondrial stress in immune system cells contributes to aberrant inflammatory responses in the skin and pathological wound healing states,' Eming said. 'It will also be interesting to see if pharmacologic intervention in mitochondrial stress responses provides therapeutic benefit and facilitates tissue repair.'