Largest Peninsular River System
The Peninsular drainage system is older than the Himalayan one. This is evident from the broad, largely-graded shallow valleys, and the maturity of the rivers. The Western Ghats running close to the western coast act as the water divide between the major Peninsular Rivers, discharging their water in the Bay of Bengal and as small rivulets joining the Arabian Sea.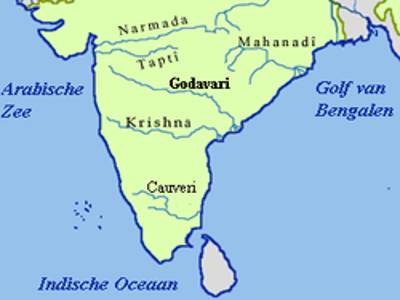 The Godavari is the largest Peninsular river system. It is also called the Dakshin Ganga. It rises in the Nasik district of Maharashtra and discharges its water into the Bay of Bengal. Its tributaries run through the states of Maharashtra, Madhya Pradesh, Chhattisgarh, Orissa and Andhra Pradesh. It is 1,465 km long with a catchment area spreading over 3.13 lakh sq. km 49 percent of this, lies in Maharashtra, 20 percent in Madhya Pradesh and Chhattisgarh, and the rest of Andhra Pradesh. The Penganga, the Indravati, the Pranhita, and the Manjra are its principal tributaries. The Godavari is subjected to heavy floods in its lower reaches to the south of Polavaram, where it forms a picturesque gorge. It is navigable only in the deltaic stretch. The river after Rajamundri splits into several branches forming a large delta.