Physical Properties of Haloalkanes:
Haloalkanes are hydrocarbons in which hydrogen in normal alkane is replaced by a halogen. They are slightly soluble in water. Pure haloalkanes are colourless.
(i) Physical state and odour: The lower members e. g. CH3F, CH3Cl, CH3Br, H3C—CH2F etc. are gases. CH3-I, CHCl3 and the majority of the higher members upto C18 are sweet-smelling liquids, but the higher homologoues are odourless solids. Alkyl halides are sweet-smelling; but they are toxic. So they should be handled cautiously.
(ii) Solubility: Haloalkanes are slightly soluble in water, but they are readily soluble in organic solvents like alcohol, ether etc. readily.
(iii) Boiling points: Haloalkanes have higher molecular masses than the corresponding parent alkanes. The melting and boiling point of haloalkane increases in the order: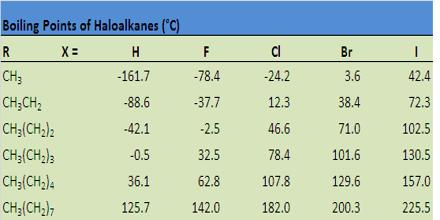 For isomeric halokanes, the boiling points decrease with branching. Thus, a branched chain isomer will have lower boiling point than the straight chain isomer.
Due to having polarity in C-F & C-CI bonds, the B.P of fluoro-alkane & chloro-alkane is higher than that of the corresponding parent alkanes. But bromo & iodo-alkanes have lower B.P. than that of corresponding parent alkanes due to the decreased volume of bromo & iodo-alkanes, in comparison to that of parent alkanes.
(iv) Specific gravity: Iodides & bromides are heavier than H2O; but fluoride & chloride are lighter. Specific gravity decreases with the increases of molecular mass.
Haloalkanes give following reactions
Nucleophilic substitution reaction (SN reaction)
Elimination reaction
Reduction reaction
Reaction with metals to form organo-metalic compounds.