Malvaceae:
(i) Leaf: simple and alternate, free lateral stipule present.
(ii) Androecium: Stamens monadelphous, staminal tube situated around the style.
(iii) Anther: One celled and kidney shaped. Pollen grain spiny.
Example: Hibiscus rosa-sinensis (China rose)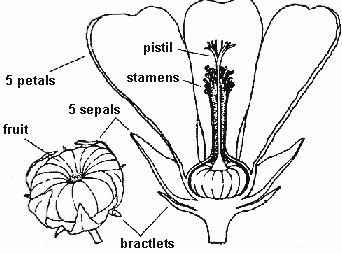 Solanaceae:
(i) Calyx: 5 sepals, united and persistent
(ii) Corolla: Funnel shaped (eg. Dhutura) or whorled (eg. Brinjal)
(iii) Ovary: Placentation is axile, placenta swollen and situated obliquely with the mother axis Example: Datura metel (Dhutura)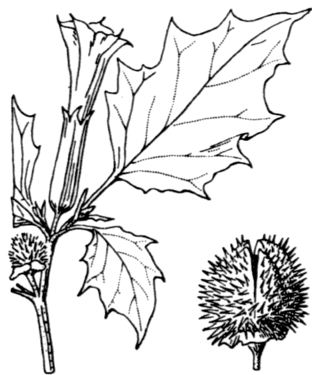 Fig: Dhutura
Liliaceae:
(i) Flower: Trimerous; floral leaves three in each row or their multiple.
(ii) Perianth: Petaloid, 6 in number, three in each row.
(iii) Ovary: Three chambered and superior
Example: Allium cepa (Onion).