There were video games back when most communications were still business-related and there weren't any smartphones. Nintendo, PlayStation, and Sega revolutionized the world of home entertainment. Even though gaming has advanced significantly, some old-school, retro games continue to be popular.
Donkey Kong Country (1994)
Donkey Kong Country is entertaining for the whole family since it combines minecarts with being fired out of cannons. In order to beat the Kremlings, Donkey Kong and Diddy Kong must rescue stolen bananas. In the game, players take control of the gorilla Donkey Kong and his nephew Diddy Kong for endless 2D side-scrolling fun.
There's never a dull moment in Donkey Kong Country, which was originally released for the Nintendo and Super Nintendo (SNES). It also offers an incredible amount of repeat value. Surprisingly, Super Mario served as an inspiration for the game's design.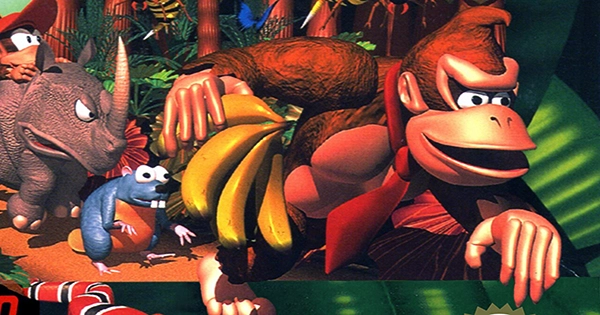 Super Metroid (1994)
Players take control of Samus, a human lady entrusted with rescuing a newborn alien creature, in an action-adventure vintage 2D side-scroller. Samus, the game's protagonist, is renowned for her armor, weapons, and capacity to curl up into a ball in order to detonate bombs, among other abilities.
The Super Nintendo (SNES) game Super Metroid excels as an exploration game and has won a ton of praise from critics over the years for being among the best games ever thanks to its exquisite cohesiveness, thought-provoking levels of complexity, and great musical soundtrack.
The Legend Of Zelda: Ocarina Of Time (1998)
This legendary game's story revolves around Link, a young boy who must travel across the magical land of Hyrule in order to defeat Ganondorf. The Legend of Zelda: Ocarina of Time is frequently hailed as one of the greatest video games of the 1990s and perhaps all time, and it's simple to understand why. It features time travel and mysterious dungeons. Particularly considering the 3D third-person perspective and tremendously entertaining cut scenes throughout the game.
If the film's visual appeal wasn't enough, composer Koji Kondo's soundtrack is a work of art. The Legend of Zelda series is frequently cited as having one of the best soundtracks in video game history. The music that they learn to play on Link's ocarina in this game will stick in players' minds for years to come.
Sonic The Hedgehog (1991)
When Nintendo and Sega were rivals back then, Sonic and Mario were truly on the same level. The Sonic the Hedgehog video game still holds up today and was a blast to play back in the 1990s, despite Sega's failure in the platform wars.
In the game, players take control of the blue hedgehog Sonic and the fox Tails in two-player mode as they navigate challenging terrain in a fast-paced 2D side-scrolling journey to defeat the evil scientist Doctor Eggman. Sonic the Hedgehog easily survives the test of time as a really enjoyable retro game, and there are other popular titles in the genre that are also both sufficiently difficult and enjoyable. It also has a distinctive soundtrack.
Pokemon Red/Blue (1996)
It's fair that there is a tie in this case. Pokemon Red and Blue both came out in the same year, and they were groundbreaking games that paved the bar for how much a game might permeate popular culture. For the Gameboy, the Pokemon video games were first made available.
Players take on the role of Ash Ketchum, a ten-year-old child on a mission to defeat other players and win gym competitions in order to become the best Pokemon master. It's not surprising that the game is on this list given that it was one of the most successful games of the 1990s because the Pokemon franchise has seen significant success over the years with an anime series, movies, playing cards, and more.
Pokemon Red and Pokemon Blue, a two-in-one set of fantastic retro games, are credited with sparking the entire Pokemon frenzy.
Grand Theft Auto (1997)
This 3D open-world action game, the first in the Grand Theft Auto series, swept the globe. This game is significant because of its position in gaming history, its impact on gaming culture, and the fact that it frequently appears on best-of-game lists. Grand Theft Auto's missions appeal to players because they give them a feeling of freedom. It also became common to listen to music on the radio while driving.
A month after it was initially published for PC, it was also made popular on PlayStation.
Super Mario World (1990)
In a nutshell, Super Mario World, which was released on the Super Nintendo (SNES) internationally and received positive reviews, is the Mario game with Yoshi in which players direct Mario to travel through Dinosaur Land utilizing well-known mechanics in order to complete the game.
Super Mario World firmly remains a classic that still holds up to this day, even if Super Mario 3 is right there with it when it comes to retro gaming for this series. Who could refuse the Mario brand? Yoshi makes it simple to include this game.
Final Fantasy VII (1997)
Whether it was launched before or after other Final Fantasy titles, this turn-based RPG strategy game is praised as one of the best. It is easy to see why that is merited. When it comes to classic video games from the 1990s, Final Fantasy VII is a tough game to top because to its stunning graphics, engaging cutscenes, and Nobuo Uematsu's unique score.
In the PlayStation game Final Fantasy VII, players take control of Cloud Strife, who is determined to find Sephiroth and protect the world from a bad megacorporation. This game established the groundwork for the rest of the franchise, universe, and characters in Final Fantasy to continue engrossing players.
Metal Gear Solid (1998)
In part because it introduced dramatic cut scenes, Metal Gear Solid is one of the most influential video games ever. This association is carried on throughout the series. Players command Solid Snake in this original game, a classic from the 1990s, as he completes several missions to take down a terrorist group. Snake has a number of skills that he can employ to, for instance, sneak into structures and take out bosses.
Metal Gear Solid, a PlayStation game, features an intriguing plot, and Liquid Snake, the terrorist splinter cell's leader, is a tough foe. The game is one of many in the Metal Gear series, and it is still well-liked today because of its gameplay and character design.
Age Of Empires (1997)
Due to its original idea, playability, and impact on subsequent games, Age of Empires made the list. The first of nine games in this series, a turn-based PC strategy game lets players explore historical locations and reenact battles between factions for control of land and other resources.
Age of Empires provides battle, strategy, and historical education while covering the Stone Age through the Iron Age and taking place in parts of Europe, Africa, and Asia. Since its initial release in 1997, the series has kept players interested.