Verification of Faraday's Second law of electrolysis
Faraday's second law of electrolysis states that, when the same quantity of electricity is passed through several electrolytes, the mass of the substances deposited are proportional to their respective chemical equivalent or equivalent weight. So, here clearly state that "the mass of an essence deposited or enlightened at any electrode on passing a definite amount of charge is straight comparative to its chemical equal weight".
The mass of the chemical, deposited due to electrolysis is not only proportional to the amount of electricity passes from end to end the electrolyte, but it also depends upon some other aspect. Every essence will have its own atomic weight. So for the similar number of atoms, dissimilar substances will have dissimilar masses. The masses of the diverse resources formed or consumed by a similar amount of electricity that passes in dissimilar electrolytes associated in series are comparative to their equal masses, Mass ∝ Equivalent weight.
Two electrolytic cells containing different electrolytes, CuSO4 solution, and AgNO3 solution are connected in series with a battery, a rheostat and an ammeter (Figure). Copper electrodes are inserted in CuSO4 and silver electrodes are inserted in AgNO3.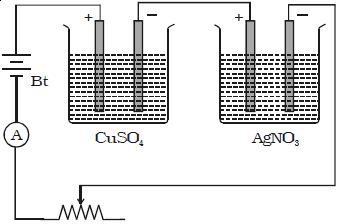 The cathodes are cleaned, dried, weighed and then inserted in the respective cells. The current is passed for some time. Then the cathodes are taken out, washed, dried and weighed. Hence the masses of copper and silver deposited are found as m1 and m2.
It is found that
m1/m2 = E1/E2
where E1 and E2 are the chemical equivalents of copper and silver respectively.
m α E
Thus, the second law is verified.
The gram comparable mass of the material is the mass of the essence that has the aptitude to lose or gain one mole of the electrons throughout the chemical reaction.
The gram equivalent mass = the gram atomic mass/number of charges on the aspect.
So, for the similar measure of electricity or accusation passes from end to end dissimilar electrolytes, the mass of deposited chemical is straight comparative to its atomic weight and inversely comparative to its valency.
(The mass of the first aspect / the mass of the second element) = (The equivalent mass of the first element / the equivalent mass of the second element)
"When a similar quantity of electricity is passed from end to end dissimilar electrolytes, the masses of dissimilar ions liberated at the electrodes are straight comparative to their chemical equivalents (Equivalent weights)." i.e., or
Thus the electrochemical equivalent (Z) of an element is straight comparative to its equal weight (E), i.e.,
where, Faraday constant (F)
So, 1 Faraday = 1F =Electrical charge carried out by one mole of electrons.
1F = Charge on an electron × Avogadro's number.
1F = Number of Faraday.