Antimony pentasulfide is an inorganic antimony and sulfur combination that is also known as antimony red. It is a variable-composition nonstoichiometric chemical. Its composition is unknown. It is a sulfide with a p-block molecular structure. Sulfur contamination is common in commercial samples, which can be eliminated by washing with carbon disulfide in a Soxhlet extractor.
Properties
It is an orange-yellow or reddish amorphous powder; density 4.12 g/cm3; decomposes at 75°C; insoluble in water and alcohol; soluble in hydrochloric acid, caustic alkalies and ammonium hydrosulfide.
Chemical formula: S5Sb2
Molar mass: 403.82 g·mol−1
Appearance: yellow to orange powder
Density: 4.12 g/cm3
Melting point: 135 °C (275 °F; 408 K) (decomposes)
Solubility in water: insoluble
Solubility: soluble in HCl, alkalis, ammonium hydrosulfide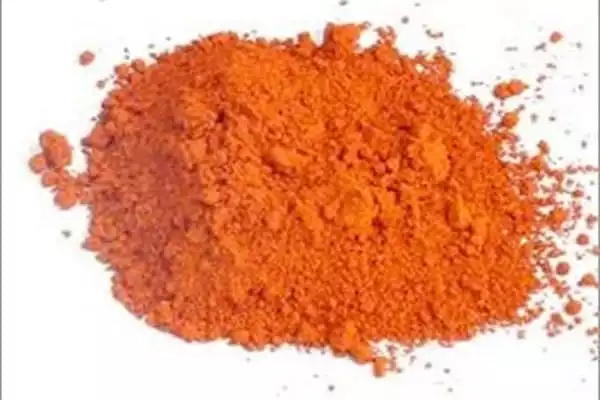 Production
Antimony pentasulfide can be produced by the reaction of antimony with sulfur at a temperature from 250-400 °C in an inert atmosphere.
Preparation
The compound is made commercially by converting antimony trisulfide to tetrathioantimonate by boiling with sulfur in caustic soda solution:
4 Sb2S3 + 8 S +18 NaOH → 5 Na3SbS4 + 3 NaSbO3 + 9 H2O
The sparingly soluble sodium antimonate is filtered out of the solution. The yellow-orange antimony pentasulfide precipitates out on treatment with hydrochloric acid.
2 Na3SbS4 + 6 HCl → Sb2S5 + 6 NaCl + 3 H2S
It may also be prepared by the reaction of antimony pentachloride in HCl with hydrogen sulfide and removing any free sulfur by extraction with carbon disulfide:
2 SbCl5 + 5 H2S → Sb2S5 + 10 HCl.
Physical chemistry
Like many sulfides, this compound liberates hydrogen sulfide upon treatment with strong acids such as hydrochloric acid.
6 HCl + Sb2S5 → 2 SbCl3 + 3 H2S + 2 S
Analysis by Mössbauer spectroscopy indicates that this compound is a derivative antimony(III), explaining the production of antimony(III) chloride, rather than antimony(V) chloride, upon acidification. It is, therefore, not analogous to the phosphorus(V) compound phosphorus pentasulfide.
Uses
It may be used as a red pigment and is one possible precursor to Schlippe's salt, Na3SbS4, which can be prepared according to the equation:
3 Na2S + Sb2S5 + 9 H2O → 2 Na3SbS4·9H2O
It is also used in the vulcanization of rubber to produce red rubber.