Barchans: Erosional Landforms
Crescent-shaped dunes called barchans with the points or wings directed away from wind direction i.e., downwind, from where the wind direction is constant and moderate and where the original surface over which sand is moving is almost uniform. Parabolic dunes form when sandy surfaces are partially covered with vegetation. That means parabolic dunes are reversed barchans with wind direction is the same. Seif is similar to barchan with a small difference. Seif has only one wing or point. This happens when there is a shift in wind conditions. The lone wings of seifs can grow very long and high. Longitudinal dunes form when the supply of sand is poor and wind direction is constant. They appear as long ridges of considerable length but low in height. Transverse dunes are aligned perpendicular to wind direction.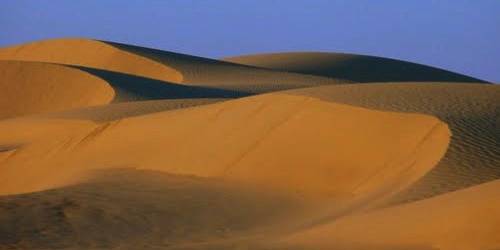 Examples of a Barchan
Grand Erg Oriental, Sahara Desert
Great Sand Dune National Park, Southern Colorado
Nebraska Sand Hills, Nebraska
Indiana Dunes National Lakeshore, Lake Michigan
A barchan dune is also sometimes referred to as a crescentic dune, is a U-shaped type of sand dune that consists of horns or tips that point downwind or against the wind. These dunes form when the wind direction is constant and the source of sand is an elongated feature at right angles to the wind direction. They may be very long and low in height. When sand is plenty, quite often, the regularly shaped dunes coalesce and lose their individual characteristics. Most of the dunes in the deserts shift and a few of them will get stabilized especially near human habitations.