Principle of Astronomical Telescope
The telescope which is used for viewing celestial bodies like sun, moon, Planets, stars etc. is called astronomical telescope. It is an optical instrument which is used to see the magnified image of distant heavenly bodies like stars, planets, satellites, and galaxies etc.
Principle: An astronomical telescope works on the principle that when an object to be magnified is placed at a large distance from the objective lens of a telescope, a virtual, inverted and magnified image of the object is formed at the least distance of distinct vision from the eye held close to the eyepiece.
In light rays coming from a long distance after incident parallel to each other on the object, the refracted rays meet at a point. At this point, a real and inverted image is formed. In this situation, the eyepiece is focused in such a way as it remains the focus of the eye-piece (pq) and optical center (C). As a result, pq acts as the object of the eye-piece. Light rays emitted from 'pq' after refraction in the eyepiece form a final virtual, erect and magnified image pʹqʹ [Figure].
If the eye-piece is shifted slightly such that 'pq' is formed at the focal plane, the rays of light coming from 'pq' become parallel to each other at the eye-piece [Fig. 6.16]. So, if eyes are placed behind the eye-piece an inverted and highly magnified image of it is formed at infinity. The observation of the image in this way in a telescope is called normal focusing at infinity.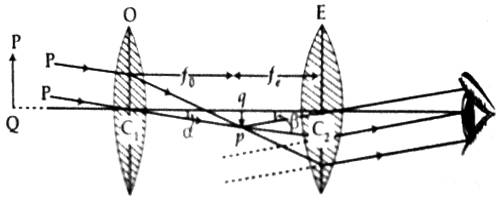 There are two types of focusing in a telescope, viz – (1) focusing at infinity or focusing on the normal vision and (2) focusing at the least distance of distinct vision. The equation for the magnification will be different for these two types of focusing.