A critical uncertainty regarding the second-largest bank failure in U.S. history was cleared up on Sunday when federal regulators intervened to back all Silicon Valley Bank deposits. This came hours before trading on international stock markets resumed.
Beyond the $250,000 nationally insured cap, Silicon Valley Bank deposits will be backed by the government, according to the U.S. Treasury, Federal Reserve, and Federal Deposit Insurance Corp. The 16th biggest bank in the nation, with $209 billion in assets and more than $175 billion in deposits, the Santa Clara, California-based bank was the subject of concerns regarding what would happen to uninsured funds kept there.
In a combined statement released late Sunday night, the agencies stated that "depositors will have access to all of their money beginning Monday, March 13". "Taxpayers will not incur any losses resulting from Silicon Valley Bank's settlement."
The statement announced the removal of SVB's senior executives.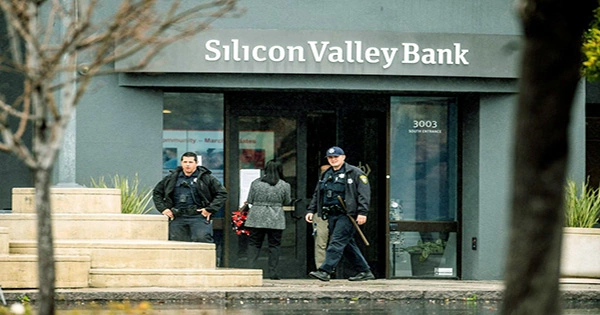 Federal regulators took extraordinary action with the statement to calm the financial markets before trading resumed on Monday in Asia, Europe, and North America. After learning about the backstop strategy, the Dow futures increased by more than 400 points.
A few hours later, the British bank HSBC announced that, thanks to the British government and the Bank of England, it would purchase all of the bank's British assets for just £1 ($1.21). SVB U.K. had loans totaling approximately £5.5 billion ($6.66 billion) as of Friday and savings totaling approximately £6.7 billion ($8.11 billion).
"This guarantees customer deposits are protected and can bank as usual, with no taxpayer support," U.K. finance minister Jeremy Hunt said in a statement. "I'm glad we were able to come to a conclusion so quickly."
The SVB saga had a negative impact on European markets, with the FTSE 100 index of the nation's most valuable public firms falling 2.4% by midday Monday, a two-month low.
Credit Suisse, a Swiss bank, and Commerzbank, a German bank, both saw their share prices drop by more than 10% on the Stoxx 600 index of European businesses, which was down 2.5% overall, as a result of the fallout.
On Monday morning, the major markets in the Asia-Pacific region were mixed, with the benchmark Nikkei 225 in Japan falling 1.1% at the close while the Shanghai Composite gained 1.2% as Chinese equities followed the rise in U.S. futures.
Late on Sunday, President Joseph Biden expressed his satisfaction with the American action.
He issued a statement in which he said, "The American people and American businesses can have faith that their bank deposits will be there when they need them. "I am fully committed to holding those accountable for this mess to account, and to continuing our efforts to improve oversight and control of bigger banks so that we do not find ourselves in this situation again.
He promised to go into greater detail about banking protection on Monday morning.
Customers and employees of Silicon Valley Bank exhaled sighs of relief following the regulators' statement.
Vanessa Pham stated that she was preparing for the chance that Omsom, the company she co-founded that banks with SVB, and sells Asian food products, might run out of money in two to three months.
I will eagerly and patiently await the real deposit in our bank and the access that comes with it, Pham declared.
Before Friday's closure, a managing director in a regional office, according to a source inside Silicon Valley Bank, said he was pleased for his customers. He expressed his appreciation for the "favorable resolution," adding that he dreaded the loss of tens of thousands of jobs if uninsured deposits had not been covered.
A second SVB employee stated on Sunday, "I believe people were crushed by the sense that customers were going to lose money and that they were dealing with all this disruption on our behalf. Therefore, they will now at least receive their deposits back in full, which is a tremendous relief.
While depositors are guaranteed, the employee continued, the bank's workers, who SVB reported number more than 8,500, have doubts about their jobs: There's a lot of doubt still. In connection with that, management was recently let go, and we could still be acquired.
Federal regulators also announced on Sunday that they had taken control of a second bank, the approximately half-sized New York-based Signature Bank, which had developed into a major source of cryptocurrency financing. They claimed that when Signature Bank was shut down, an identical guarantee would be put in place for its depositors.
Authorities are keeping an eye on other banks that might be experiencing similar problems, a top Treasury official told reporters on Sunday. The Fed has established an emergency lending program to provide banks with increased and immediate access to funds "in moments of duress" as part of coordinated interagency efforts to backstop any additional bank failures.
Additionally, the representative did not completely rule out the prospect of finding a buyer for either SVB or Signature Bank.
In order to save the bank's corporate and startup clients, many of whom had all but frozen their operations in expectation of what would happen next for a bank that held many of their assets, tech industry players and pundits hoped for a government guarantee for SVB depositors.
A "systemic risk exception," an extraordinary move allowing financial regulators to intervene without congressional approval, was invoked by Washington officials as a result of the intervention. The action needed unanimous approval from the Treasury, FDIC, Federal Reserve, and Biden.
The U.K. agreement is expected to calm markets and investors' and start-ups' nerves. On Sunday, more than 250 British tech Executives issued a dire warning that the failure of SVB would endanger the entire industry.
British Prime Minister Rishi Sunak told NBC News' Lester Holt on Sunday night: "You know, there's been a lot of worry because Silicon Valley Bank in the U.K., like in the U.S., is very important to a large number of technology firms, which clearly employ many people in high skilled jobs.