The Deccan Plateau of Peninsular Plateau
The Peninsular plateau is a tableland. It is composed of the old crystalline, igneous and metamorphic rocks. Rising from the height of 150 m above the river plains up to an elevation of 600-900 m is the irregular triangle known as the peninsular plateau.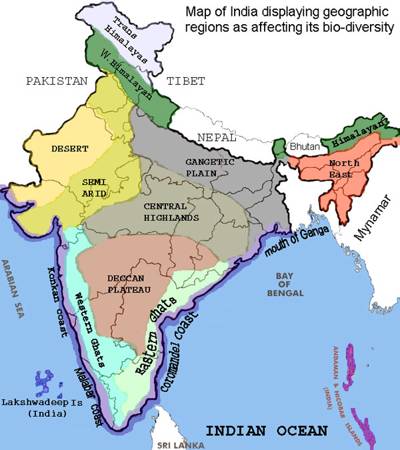 Deccan Plateau is bordered by the Western Ghats in the west, Eastern Chats in the cast and the Satpura, Maikal range and Mahadeo hills in the north. It is a large plateau in India which covers most of the southern part of the country. The Western Ghats are locally known by different names such as Sahyadri in Maharashtra, Nilgiri hills in Karnataka and Tamil Nadu and Anaimalai hills and Cardamom hills in Kerala. The Western Ghats are comparatively higher in elevation and more continuous than the Eastern Ghats. Their average elevation is about 1.500 m with the height increasing from north to south. 'Anaimudi' (2.695 m), the highest peak of the peninsular plateau is located on the Anaimalai hills of the Western Ghats followed by Dodabetta (2,637 m) on the Nilgiri hills. Most of the Peninsular rivers have their origin in the Western Ghats. The Eastern Ghats comprising the discontinuous and low hills are highly eroded by the rivers such as the Mahanadi, the Godavari, the Krishna, the Kavell, etc. Some of the important ranges include the Javadi hills, the Palconda range, the Nallamala hills, the Mahendragiri hills, etc. The Eastern and the Western Ghats meet each other at the Nilgiri hills.