Leading manufacturers in the industry, including Micron and SK Hynix, are reducing their output of DRAM, including DDR5 and DDR4 memory, according to TrendForce. The average selling price (ASP) of DRAM decreased by up to 20% during the first quarter of the year, but it is predicted to decrease by 10-15% in the following three months.
Uncertainty results from price declines because it is impossible to predict whether demand will increase during the second quarter or remain flat. Although the industry reveals that supplier inventory levels are at an all-time high, manufacturers have been forced to reduce the ASP in order to satisfy customers' and clients' requirements. Prices won't stabilize until the output is reduced, though.
The image below shows how TrendForce projected prices for DRAM goods in the first and second quarters of 2023.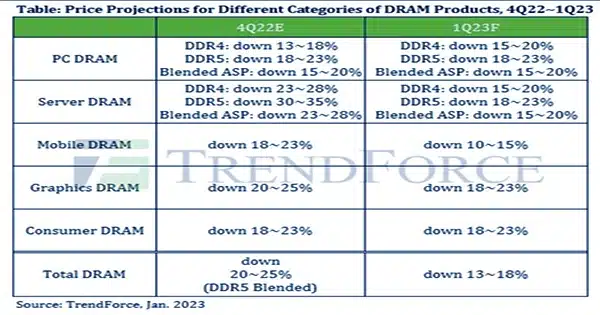 The analytic company broke down each sector, explaining the decline for each.
PC DRAM: Due to the stagnant marketplace, vendors have asked much less from makers over the last three quarters. Most stores display backstock and racks with up to thirteen weeks' worth of inventory. Specific DRAM memory modules, such as 8GB DDR4 memory, are expected to decline by over ten percent during this second quarter, despite vendors limiting output to offset the absence of sales. PC OEMs can take advantage of the reduced price by buying more DRAM for their products, but it is unclear whether this will be sufficient for the vendors to address the inventory problems. According to expert forecasts, the PC DRAM ASP will fall between ten and fifteen percent.
Server DRAM: Inventory management has stalled due to OEM and cloud service provider demand for computer DRAM. Customer demand appears to be weak, prompting vendors to raise shipping amounts and modify the server DRAM ratio. This has resulted in a rise in stockpiles of up to 25% during the first quarter. Despite reduced prices, suppliers' attempts to reduce capacity utilization rates did not appear to have a significant impact. According to TrendForce, server DRAM ASP will continue to fall by up to 18% in the second quarter of 2023.
Mobile DRAM: The only industry that has improved its ASP level above all others is the mobile DRAM industry. This is a result of manufacturers' much more cautious manufacturing practices over the previous few months. However, it is predicted that during the second quarter of this year, this will become more restricted. It presents a significant task for suppliers to sell as much of their leftover inventory as feasible. Nevertheless, TrendForce only expects a ten to fifteen percent drop, despite the difficulties.
DRAM for graphics: Since AI is such a well-known (and frequently abused) term, it hasn't had much of an impact on demand. A ten to fifteen percent quarter-over-quarter (QoQ) drop is what TrendForce expects. The 16 GB memory is gradually being adopted in graphics DRAM, with Samsung's GDDR6 nearing the end of its production run at the end of 2023. As a result, SK Hynix will be the sole producer of 8GB memory devices. According to TrendForce, "rolling back production may finally provide an opportunity for the price of GDDR6 8 Gb to stop fluctuating aggressively."
DRAM for consumers: Networking device demand has stayed flat, but merchants are refusing to take higher inventory levels now that the market has settled off. The estimated study indicates that, despite purchasers' caution in recent months, supply continues to outstrip demand, despite output slowing. In 2023, the consumer DRAM ASP is expected to fall by as much as 15%.
The demand is declining across all sectors, not just the DRAM industry, and the outlook is gloomy. It will be fascinating to compare these figures as 2024 approaches.