Kashmir or Northwestern Himalayas
The Northwestern Himalayan alpine shrub and meadows is a montane grasslands and shrublands ecoregion of the elevations of the northwestern Himalaya of China, India, and Pakistan. It comprises a series of ranges such as the Karakoram, Ladakh, Zanskar, and Pir Panjal. The northeastern part of the Kashmir Himalayas is a cold desert, which lies between the Greater Himalayas and the Karakoram ranges. Between the Great Himalayas and the Pir Panjal range, lies the world-famous Valley of Kashmir and the famous Dal Lake. Important glaciers of South Asia such as the Baltoro and Siachen are also found in this region.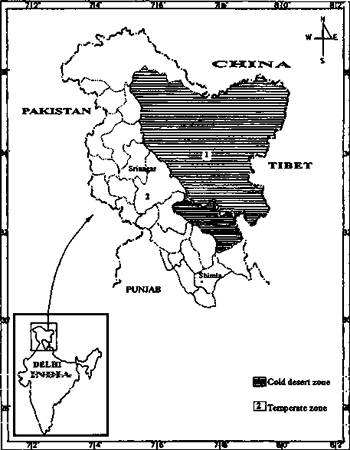 The Kashmir Himalayas are also famous for Karewa formations, which are useful for the cultivation of Zafran, a local variety of saffron. Some of the important passes of the region are Zoji La on the Great Himalayas. (Karewas are the thick deposits of glacial clay and other materials embedded with moraines.)
Banihal on the Pir Panjal, Photo La on the Zaskar, and Khardung La on the Ladakh range. Some of the important fresh lakes such as Dal and Wular and saltwater lakes such as Pangong Tso and Tso Moriri are also in this region. This region is drained by the river Indus and its tributaries such as the Jhelum and the Chenab. The Kashmir and the northwestern Himalayas are well-known for their scenic beauty and picturesque landscape. The landscape of Himalayas is a major source of attraction for adventure tourists.
The landscape of Himalayas is a major source of attraction for adventure tourists. Some famous places of pilgrimage such as Vaishno Devi near Jammu in Katra, Amarnath Cave in Anantnag, Charar-e-Sharif found here. Jhelum in the valley of Kashmir is still in its youth stage and yet forms meander–a typical feature associated with the mature stage in the evolution of fluvial landform. These meanders in Jhelum River are caused by the local base level provided by the erstwhile larger lake of which the present Dal Lake is a small part. Jammu dun and Pathankot dun are important examples.
Important points of these regions –
Between the Indus in the west and the Kali river in the east (880 km).
Spread across three states of Jammu and Kashmir, Himachal Pradesh and Uttarakhand.
It encompasses three physiographic provinces namely Kashmir Himalaya, Himachal Himalaya, and Kumaon Himalaya (Uttarakhand Himalayas).
The Lesser Himalayas in Kumaon Himalaya is represented by the Mussoorie and Nag Tiba ranges.
The Shiwalik in this region runs south of the Mussoorie range between the Ganga and the Yamuna rivers.
The flat valleys between the Lesser Himalaya and the Shiwalik range are called 'doons' or 'Duns' of which Dehra Dun is the most famous.