Nanda Devi Biosphere Reserve
A Biosphere Reserve is a unique and representative ecosystem of terrestrial and coastal areas which are internationally recognized within the framework of UNESCO's Man and Biosphere (MAB) Program. Biosphere reserves are areas of terrestrial and coastal ecosystems promoting solutions to resolve the conservation of biodiversity with its sustainable use. The Nanda Devi Biosphere Reserve situated in Uttaranchal includes parts of Chamoli, Almora, Pithoragarh and Bageshwar districts.
This biosphere reserve has very diverse fauna and flora. The Valley of Flowers National Park is renowned for its meadows of endemic alpine flowers and outstanding natural beauty. It has a wide altitudinal range (1,500 – 7,817 m). It covers 5860.69 km2 area with core zone (712.12 km2), a buffer zone (5,148.57 km) and transition zone (546.34 km2).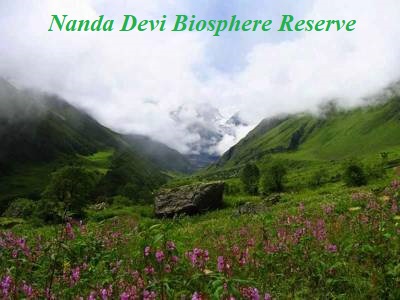 The major forest types of the reserve are temperate. A few important species are silverweed and orchids like latifolic and rhododendron. The biosphere reserve has a rich fauna, for example, the snow leopard, black bear, brown bear, musk deer, snow-cock, golden eagle, and black eagle. The reserve is also the habitat of the endangered snow leopard, Asiatic black bear, brown bear, Himalayan Musk Deer, and bharal. Few human populations reside there due to the detachment of the area.
Major threats to the ecosystem are the collection of endangered plants for medicinal use, forest fires, and poaching.