Alluvial Plain
A level tract of land made up of alluvium or fine rock material brought down by a river. It is a level or gently sloping surface formed of sediments laid down by streams, generally during flooding.
An alluvial plain is a huge level landform that is shaped from the deposition of sediment over a long period by rivers from the highlands. Sediments are brought about by weathering and erosion then water and wind transport the debris along. Alluvial soils are widespread in the northern plains and the river valleys. These soils are formed mainly due to silt deposited by Indo-Gangetic-Brahmaputra Rivers in Indian Subcontinent. In coastal regions, some alluvial deposits are formed due to wave action. These soils cover about 40 percent of the total area of the country.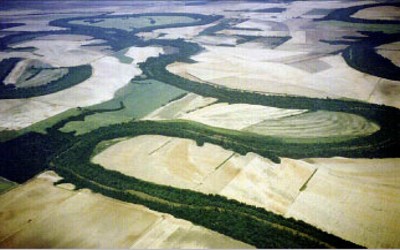 Fig: Mississippi Alluvial Plain
Alluvial fans are formed when water and sediments pass through a narrow gap between hills, mountains, or canyon walls and then slows down and spread out when it reaches an open plain. They are formed when streams flowing from higher levels break into foot slope plains of low gradient.