Classification of Natural Disaster
Human beings the world over have experienced disasters and have faced and lived with them. Now people are becoming aware and various steps have been initiated at different levels for mitigating the effects of disasters. Identification and classification of disasters are being considered as an effective and scientific step to deal promptly and efficiently with the disasters. Broadly, natural disasters can be classified into four categories (Table). The natural disaster category being divided into six disaster groups: Biological, Geophysical, Meteorological, Hydrological, Climatological, and Extra-Terrestrial.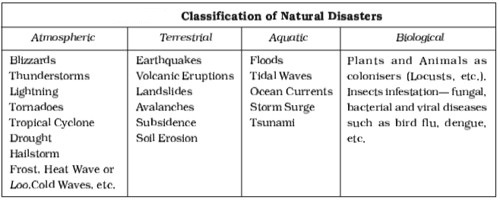 Atmospheric: This category of natural disaster has its own natural characteristics, geographic region where it occurs, time of year it is most likely to happen, harshness, and related risk.
Terrestrial: Earthquakes, Volcanic eruptions, Landslides, Avalanches, Subsidence, Soil Erosion etc are examples of Terrestrial Disaster.
Aquatic: Floods, Tidal Waves Ocean, Storm surge, Tsunami etc are examples of Aquatic Disaster.
Biological: Insect Infection, Viral Disease, Bacterial Disease, Parasitic Disease, Fungal Disease, etc are examples of Biological Disaster.
India is one of those countries which have experienced most of the natural disasters mentioned in Table. Every year it loses thousands of lives and property worth millions of rupees due to these natural calamities.