Rock Cycle
Rocks do not remain in their original form for long but may undergo transformation. Rock cycle is a continuous process through which old rocks are transformed into new ones. Igneous rocks are primary rocks and other rocks (sedimentary and metamorphic) form from these primary rocks.
The three main rock types are igneous, metamorphic and sedimentary. The three processes that change one rock to another are crystallization, metamorphism, and erosion and sedimentation. The rock cycle is a model that describes the formation, breakdown, and reformation of a rock as a result of sedimentary, igneous, and metamorphic processes. All rocks are made up of minerals.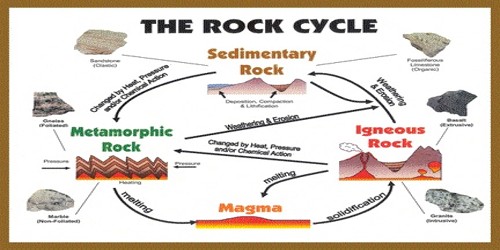 Igneous rocks can be changed into metamorphic rocks. The fragments derived out of igneous and metamorphic rocks form into sedimentary rocks. Sedimentary rocks themselves can turn into fragments and the fragments can be a source for formation of sedimentary rocks. The crustal rocks (igneous, metamorphic and sedimentary) once formed may be carried down into the mantle (interior of the earth) through subduction process (parts or whole of crustal plates going down under another plate in zones of plate convergence) and the same melt down due to increase in temperature in the interior and turn into molten magma, the original source for igneous rocks.