Stalactites and Stalagmites: Depositional Landforms
Stalactites hang as icicles of different diameters. Normally they are broad at their bases and taper towards the free ends showing up in a variety of forms. Stalagmites rise up from the floor of the caves. In fact, stalagmites form due to dripping water from the surface or through the thin pipe, of the stalactite, immediately below it (Figure).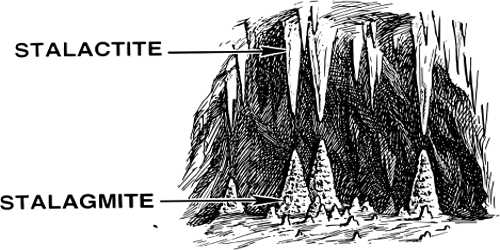 A stalactite is an icicle-shaped formation that hangs from the ceiling of a cave and is produced by precipitation of minerals from water dripping through the cave ceiling. Most stalactites have pointed tips. A stalagmite is an upward-growing mound of mineral deposits that have precipitated from water dripping onto the floor of a cave. Most stalagmites have rounded or flattened tips.
Stalagmites may take the shape of a column, a disc, with either a smooth, rounded bulging end or a miniature crater-like depression. The stalagmite and stalactites eventually fuse to give rise to columns and pillars of different diameters.