The ability to listen to a recording of a Space has been made available to all Twitter users on iOS, Android, and the web. Users may now listen to a chat after the live broadcast has stopped, bringing the social media giant's Spaces feature closer to traditional podcasts. Clubhouse just added a Replay tool that allows users to record live rooms and share them later. Some hosts will be able to record Spaces on iOS and Android, according to Twitter. Following the debut of recorded Spaces in October, the functionality was initially exclusively available to a small group of hosts on iOS.
A Spaces host will utilize the functionality by giving their live audio room a title and picking up to three tags to define what the room is about, as normal. Then they may turn on the new "Record Space" feature before pressing the "Start a Space" button to start their live audio session. If users are in a Twitter Space that is recorded, they will see a "Rec" button at the top of the Space with a red dot next to it, indicating that the recording is in progress.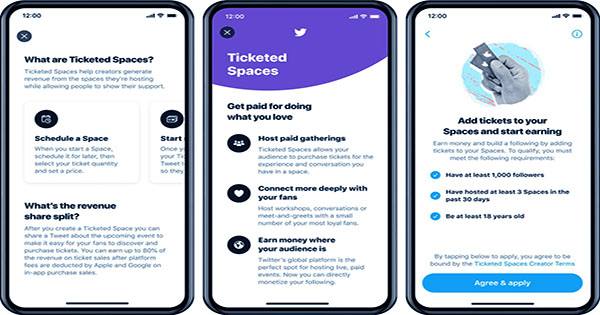 When the host is ready to finish the Space, they will press the "End" button in the top-right corner as normal, and a pop-up window will appear, asking them to confirm they wish to end the Space as well as the recording. The Space recording may be shared throughout Twitter's platform after it has finished, allowing users to listen to it at any time or re-share it.
Over the last few months, Twitter has been trying to expand and improve its Spaces feature. The social media behemoth recently added the option for users to post direct links to their Spaces, allowing others to listen to a live audio session without logging onto the platform.
According to Twitter, the new feature is geared towards Spaces users who have friends who are not on Twitter but yet want to listen in on a conversation. These new additions make Spaces available to even more individuals, giving Twitter a higher chance of attracting new users.