Select authors can now be Super Followed by all iOS users throughout the world, according to Twitter. Previously, the option was only available to users in the United States and Canada. Super Follows allows users to pay a monthly fee to subscribe to accounts they like in return for unique material.
In a recent update, Twitter has made it possible for all iOS users to Super Follow certain creators on the network. According to The Verge, this function, which was originally introduced in September and is now only accessible in the United States and Canada, allows users to monetize their Twitter accounts and generate unique content by paying for monthly memberships.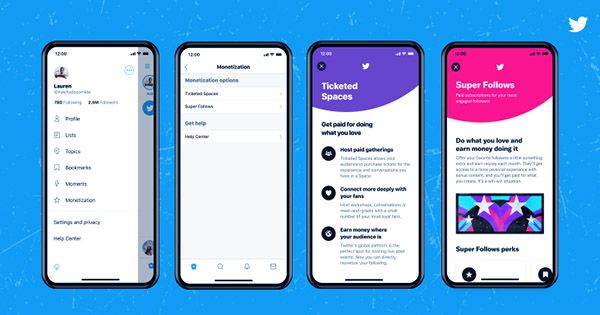 After being revealed in February, the functionality became live in September. Super Follows are another way for producers to profit from their work on social media. Super Follow memberships can be priced at $2.99, $4.99, or $9.99 each month, depending on which account is eligible. Creators can opt to make some tweets available only to subscribers while still reaching out to their unpaid followers in normal tweets.
Activating Super Follows for creators is presently done through an application. To be eligible, creators must be based in the United States, have 10,000 followers, and have posted at least 25 tweets in the previous month.
According to a study released last month by Sensor Tower, Super Follows only produced roughly $6,000 in the United States and around $600 in Canada in its first two weeks of operation. Twitter's stance on the delayed start to Super Follows is that it is too early to draw any conclusions. It is important to note that Super Follows is not Twitter's only revenue-generating feature.
Twitter introduced Tip Jar earlier this year as a means for users to collect one-time donations from their followers. Currently, the test is only open to a select group of accounts, including creators, journalists, specialists, and organizations. For its live audio rooms function, Twitter has now announced Ticketed Spaces, which allows producers to charge anything from one dollar to $999 for prior tickets.