Absorption and Sorption
Absorption refers to the accumulation and penetration of the particle through the surface inside the bulk of the absorbent. An example is the uptake of water by a sponge in which water is round throughout the sample of sponge. It is the incorporation of material in one state into another of a dissimilar state (e.g., liquids being absorbed by a solid or gases being absorbed by a liquid). Adsorption must not be confused with absorption.
Sorption: McBain suggested a non-committal term, 'sorption' to describe both adsorption and absorption. Sorption includes both adsorption (which means the accumulation of material at the surface of a solid or a liquid) and absorption (which means the adaptation of material within the bulk of a solid or liquid). It is a physical and chemical procedure by which one material becomes attached to another. Adsorption is the physical adherence or bonding of ions and molecules onto the surface of another molecule. It is the most general form of sorption used in the cleanup. However, in the current literature, the word 'sorption' is not used anymore.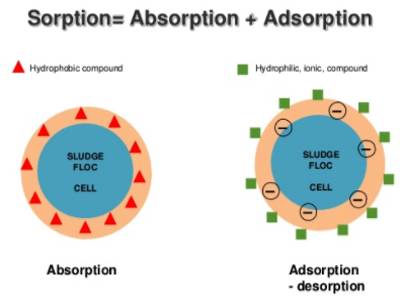 Explanation
The uptake of water vapor, alcohol vapor, etc. by certain substances such as zeolites, is neither adsorption nor absorption. Adsorption is the procedure in which atoms, ions or molecules from a substance (it could be gas, liquid or dissolved solid) adhere to a surface of the adsorbent. Water or alcohol vapors simply get into the vacant spaces in the crystal lattice and are retained there, the vacant spaces being created by dehydration of zeolites. Absorption is a procedure in which one material permeates another; a fluid permeates or is dissolved by a liquid or solid. Adsorption is a surface-based procedure where a film of adsorbate is created on the surface while absorption involves the entire volume of the absorbing material. Sorption is the common term used for both absorption and adsorption. Absorption is the amalgamation of material in one state into another of a dissimilar state (e.g., liquids being absorbed by a solid or gases being absorbed by water).
This type of uptake has been termed "persorption". Persorption may occur in other solids also. 'Desorption' is the process of removing the adsorbed molecules from the surface. In gas-solid system desorption is carried out by continued evacuation of the system at low pressures (10-2 – 10-6 mm of Hg) and at elevated temperatures. In the case of adsorption from solutions, desorption is generally carried out by dilution, and an addition of suitable chemical reagents.