Astronomical Telescope
The telescope which is used for viewing celestial bodies like sun, moon, Planets, stars etc. is called astronomical telescope [Figure]. It is an optical instrument which is used to see the magnified image of distant heavenly bodies like stars, planets, satellites, and galaxies etc. In 1911, the famous Danish astronomer Kepler first invented this telescope.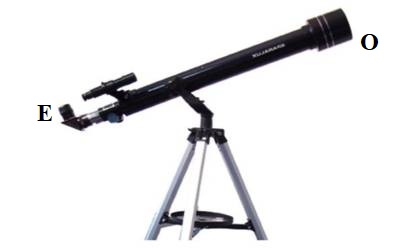 Description: This instrument is mainly constructed by two convex lenses – one is objective O and the other one is eye-piece E [Fig.2]. The objective is made of crown glass. It is kept always towards the object. Its focal length is ƒ0 and its aperture is wider. The eye-piece is made of flint glass, the observer sees the object keeping it towards his eyes. The focal length is ƒe and its aperture is small. Keeping the two lenses in two draw-tubes, they are placed coaxially on the two ends of a long tube. So, the distance between the lenses can be changed as required.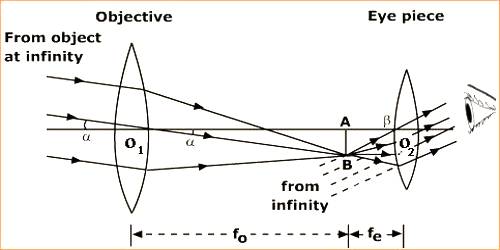 The magnification of the astronomical telescope is large, but as the field of view is small, hence a small instrument called view tinder is attached to its body. Its magnification is smaller, but its field of view is relatively wider.