The name Grand Theft Auto is well-known. Whether you enjoy video games or not, you'll probably be able to grasp the basic premise of this massive series. At this point, it seems ingrained in pop culture history, yet if you asked a dozen unrelated strangers why they undoubtedly had a wide range of responses.
Since the release of Grand Theft Auto by DMA Design in 1997, which was renowned for its innovative open-world design and its violent content, the series has courted controversy.
In Episode 1 of Bugzy Malone's Grandest Game, Brian Baglow, formerly of DMA Design and Rockstar Games, stated, "We started to get complaints." "And questions in the house, and I think Lord Campbell of Croy was the first to sort of call for the 'banning of this sick filth,' after which all the other politicians hopped on the bandwagon, and it became all about the debate," the speaker continued.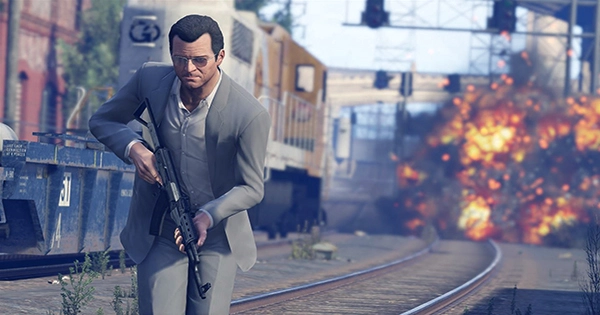 Every game since has been cast in its protracted shadow. Grand Theft Auto's success and impact on the gaming industry are undeniable, despite the fact that it is still the subject of intense investigation. Grand Theft Auto V, released by Rockstar North in 2013, is one of the best-selling and most lucrative entertainment items ever, with over $6 billion in sales as of 2018.
GTA Online, the game's shared-world multiplayer element, saw a boom during the pandemic and is still expanding in 2022, almost ten years after its introduction. Rockstar just made the internet go crazy by revealing that the next game in the series is already in production.
The open-world sandbox's definition: We must look back to Grand Theft Auto's potentially most revolutionary release in order to understand its impact truly. The third-person perspective of Grand Theft Auto III, released in 2001, allowed players to take on the role of Claude, a vindictive criminal free to explore Liberty City, a pastiche of New York City that, at the time, was a technical wonder due to its vastness and level of detail.
Reactive pedestrians move through the world as if it were their own, one that is supported by a physics engine that is ahead of its time and a 24-hour clock. It was a remarkable achievement for the time because the makers gave players the freedom to explore and create mayhem while still conveying a scripted, coherent tale.
In Liberty City, gamers might build memories that later become office chitchats, such as where to get the greatest automobile, the Banshee, and the inputs required to unlock every weapon or lower your Wanted level, cheat codes that are still ingrained in some players' muscle memory. This obsession with cheats, insider information, easter eggs, and in-game lore created an online community for the franchise that still exists today. Most players have a tale of encountering Bigfoot in the San Andreas forest.
The flexibility of GTA III would be enhanced in later games in the series. CJ Johnson, the main character in Grand Theft Auto: San Andreas from 2004, has stats that are evocative of RPGs, and the game's vast landmass is based on California and Nevada. Players could change their physique type by exercising or by consuming junk food. Additionally, they could purchase tattoos, hairstyles, and clothing to customize their virtual personas. They could even add real estate holdings, customizable vehicles, and side gigs to CJ's portfolio, incorporating more and more real-world activities into Rockstar's ever-expanding virtual world.
In series like True Crime, Saints Row, Crackdown, Assassin's Creed, and Mafia as well as individual titles like Sleeping Dogs and The Simpsons: Hit & Run, you can see the design decisions made by Rockstar. These games all advanced these ground-breaking concepts in fascinating ways, with each game's creator bringing their unique style and making significant contributions to the history of video gaming.
Cinematic aspirations: The use of contemporary pop culture in GTA also began to shine at this point. Since the beginning of the series, radio stations have served as a pillar, complete with hosts, satirical ads, and licensed music from both the underground and mainstream. As GTA shifted to 3D, high-concept reality-adjacent transmissions became very popular with the audience. Radio stations would subsequently become crucial for developing in-game people and creating a persistent, realistic setting in games like San Andreas.
Many people are already familiar with Lazlow Jones, who wrote the radio stations alongside Rockstar co-founder Dan Houser and also appears in the games as a fictionalized version of himself. In Episode 2 of Bugzy Malone's Grandest Game, Jones explains that his goal was to make the GTA stations as true to radio as possible while also highlighting its absurdities. You know, for instance, if you work in radio, the individuals that phone the station are not your fans, they are crazy or lonely.
We mocked intellectual jerks, rednecks, popstars, left-wing lunatics, right-wing nuts, and loonies. Jones carried on. "The GTA shows are a joke on America, but they also fit with the mood of the game," said one player.
Legendary musicians and tastemakers like Frank Ocean, Julian Casablancas, ROSALA, and Skepta now each run their own stations in GTA Online, curating a wide variety of musical genres and introducing a wealth of fresh music to the public. The establishment of Rockstar's record label CircoLoco Records in 2021 seems to be a logical conclusion of the series' commitment to music culture. Due to its cultural impact, the series inexorably influences itself.
The distinct cinematic ambitions of GTA have also expanded over time. From Kyle MacLachlan from Twin Peaks in GTA 3 to Ray Liotta from Goodfellas as protagonist Tommy Vercetti in Vice City to Samuel L. Jackson as Officer Tenpenny in San Andreas, popular voice actors gave the series' stories big names, believability, and weight.
However, even if the offer was said to have been on the table in the early 2000s, it doesn't necessarily follow that Rockstar had any plans to adapt Grand Theft Auto for the big screen. According to Kirk Ewing, a games industry veteran and agent close to the developers in Episode 2 of Bugzy Malone's Grandest Game, "I remember taking a call at around 4 AM from a producer in Los Angeles with an offer to make a film, and he said, "We've got Eminem to star, right, and it's a Tony Scott film, 5 million on the nose, are you interested?"
"And I called Sam and told him to look. Take note of this. They want Eminem to play the title character in the Grand Theft Auto movie, and Tony Scott has declined, Ewing continued. When they realized that their media empire was larger than any currently-released movies, they withdrew from any discussions about making a movie at that point, the author added.
Rockstar's games have thrived thanks to the distinctive creative possibilities of the video game medium and developed to feel like big-budget drama series with ensemble casts in their own right. These games feature a consistent broadcast of memorable (and occasionally still viral) side characters and a taste for parodying pop culture. And while the narrative of Grand Theft Auto V still clearly has its tongue firmly in cheek, you only need to look at Rockstar's most recent title, Red Dead Redemption 2, from 2018 to witness the maturing effect of these early concepts of fusing the silver screen with the CRT.
David Bowie made an appearance in the 1999 video game Omikron: The Nomad Soul, so this idea of casting actors in video games is not unique to GTA, but recently, games like Death Stranding, Cyberpunk 2077, and The Callisto Protocol have all included notable actors from the big screen in significant roles.
Taking it online: In the year 2022, it is evident that GTA Online has been the most important recent addition to Grand Theft Auto. You can team up and live a second life in the breathtaking sandbox that is Grand Theft Auto V's Los Santos and Blaine County with your friends (as well as random players from around the world) in this unparalleled multiplayer experience. Grand Theft Auto's online multiplayer component had its humble beginnings in the co-op feature of San Andreas, but it has since expanded in Grand Theft Auto IV and now Grand Theft Auto V, where it feels like a living, breathing world.
"The city of Los Santos had a population — an online playing population — of roughly 33.8 million the last time I checked. That's crazy! In Episode 6 of Bugzy Malone's Grandest Game, former DMA and Rockstar spokesman Brian Baglow commented, "That's, you know, bigger than a lot of cities across the world. And the place where people choose to spend their time is purely virtual. And people do that for a reason other than "I can steal vehicles and shoot policemen," which is why they do it.
Many users now treat GTA Online as a second home, logging in every day to keep up with pals, form communities, and check their virtual finances. Since its debut in 2013, GTA Online has served as an inspiration for other open-world games and has recently included Dr. Dre, submarines, private islands, a car meet, and more.
With Heists, this impressive multiplayer project may have the most captivating gameplay in the series history. It also has its own currency, virtual shops, and artistic communities. These challenging, multi-layered tasks need cooperation and tenacity from committed teams of players, but if completed successfully, they may be quite profitable.
Shark Cards, which are essentially virtual credit cards on which users may make real-world purchases to earn GTA$, was a contentious addition to GTA Online. Players in GTA$ have access to a wide range of esthetic and gameplay items, including vehicles, guns, homes, and companies. If you want to take advantage of everything GTA Online has to offer, the idea of purchasing Shark Cards is alluring.
Although you can theoretically grind to get everything naturally, Shark Cards are a convenient method to access the newest and best content in GTA Online. Rockstar's unrivaled online world has been imitated to a great extent, but it still stands as the video game industry's prized possession.
It's not difficult to understand why Rockstar has recently moved its attention to the multiplayer aspects of its games. Given their past record, the industry waits with bated breath to see what they've come up with this time. The continuous money is probably fueling their future plans.