Potassium Aluminium Fluoride, also known as Potassium Cryolite, is a white crystalline powder with a molecular formula of K3AlF6. It is commonly used as a flux in the production of aluminum, as well as in the welding industry.
This compound is used as a flux in the secondary aluminum smelting process to reduce or remove the magnesium content of the melt. The main environmental issue caused by PAF use is the production of fluoride gases. Calcium hydroxide is widely used to suppress fluoride production, but it rarely removes it completely.
Properties
Potassium Aluminium Fluoride is a complex fluoride salt that is formed by combining potassium fluoride (KF) and aluminum fluoride (AlF3) in a 3:1 ratio. It has a melting point of 550°C and a boiling point of 1500°C.
Molecular weight: 258.27 g/mol
Appearance: white crystalline powder
Melting point: 550°C
Boiling point: 1500°C
Density: 2.96 g/cm³
Solubility: It is soluble in water and has a solubility of approximately 4 g/100 mL at room temperature.
Potassium Aluminium Fluoride is a complex fluoride salt and is considered to be a strong Lewis acid. It can react with water to release hydrofluoric acid (HF), which is a highly corrosive and toxic substance. It can also react violently with oxidizing agents and strong acids.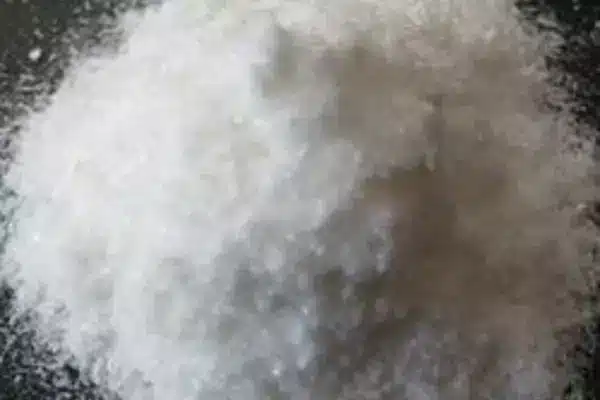 Occurrences
PAF is found in a variety of metals industry products as a fluxing agent within additives to aid in its dispersion within a charge. It also serves as an insecticide. A single natural occurrence of an unnamed mineral has been reported at a burning coal bank in Forestville, Pennsylvania.
Application
In the aluminum industry, Potassium Aluminium Fluoride is used as a flux to lower the melting point of alumina (Al2O3) and improve the conductivity of the molten mixture. It also helps to remove impurities and improves the quality of the final product.
In the welding industry, Potassium Aluminium Fluoride is used as a flux to help remove oxides and other impurities from the surface of metals, making them easier to weld together.
Safety
Potassium Aluminium Fluoride can be hazardous if not handled properly. It is important to follow appropriate safety precautions when handling this substance, including wearing protective equipment and working in a well-ventilated area.