Nelson Mandela was the greatest leader of South Africa. In fact, he was one of the greatest leaders in the world. All his life he struggled against apartheid. It was a government policy of racial segregation. The Europeans were separated from the non-Europeans. The South African social and political activist and former president Nelson Mandela helped bring an end to apartheid and has been a global advocate for human rights. The blacks were treated cruelly. They were aliens in their own country. The blacks were subjected to all sorts of indignities. They were denied all basic human rights. Even dogs received much better treatment than blacks. The great leader vowed to pet an end to the inhuman practice. He was thrown behind the prison bars. But the oppressive rulers could not break his spirit eventually; the great leader realized the goal of liberating his own people. On 10 May 1994, he was inaugurated as South Africa's first democratically voted President. He was a symbol of global peacemaking; he won the Nobel Peace Prize in 1993. His life is an inspiration to all who are oppressed and deprived.
Born: July 18, 1918, South Africa
Died: December 5, 2013, Johannesburg, South Africa
Parents: Nosekeni Fanny and Gadla Henry Mphakanyiswa
1st President of South Africa (10 May 1994 – 16 June 1999)
Awards: Nobel Peace Prize, Bharat Ratna, Presidential Medal for Freedom and more.
Political party: African National Congress
Occupation: Activist Politician Philanthropist Lawyer
Known for: Anti-Apartheid Movement
Resting place: Mandela Graveyard, Qunu, Eastern Cape, South Africa.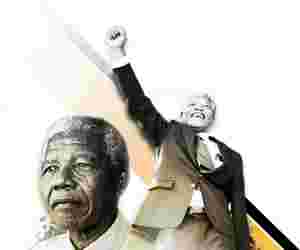 Nelson Mandela was born on July 18, 1918. He was born in Transkei, Africa into a royal family of the Xhosa-speaking Thembu tribe. When he was born, his name was Rolihlahla Mandela. He was given the name Nelson in school when he was seven years old. He completed his primary studies at a local missionary school.
He grew up in a rural area, and he engaged in activities such as herding animals. His father passed away when Nelson was 12 years old.  In 1939 Mandela entered the best University of Fort Hare, the only Western-style higher learning institute for South African blacks at the time. He attended Fort Hare Missionary College; however, he was expelled for organizing a strike against the white rule of the college.
He studied law at the University of Witwatersrand. In 1942, he joined the African National Congress and was engaged in resistance against the ruling National Party's apartheid policies after 1948. He became Deputy President of the African National Congress. He was a lawyer in addition to an activist and politician.
Under Mandela's leadership, his party launched a sabotage campaign against the government, which had lately declared South Africa a republic and quiet from the British Commonwealth. He was sentenced to life in prison for life. He was imprisoned on Robben Island and then in two other South African prisons. While he was in prison, he was told that if he congested his acts of violence, he would be allowed to go free. He did not agree to this provision.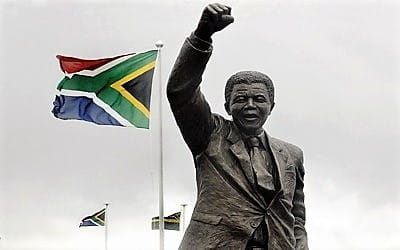 Fig: Statue of President Mandela outside the Groot Drakenstein prison in Paarl near Cape Town
Mandela was in prison for over 27 years. In 1968, both his mother and son passed away. However, he was not allowed out of prison to attend their funerals.
In 1993, he shared the Nobel Peace Prize with F.W. de Klerk. In 1994, he became the first president of South Africa to be elected by a democratic system, and he became for a first black president.
In 2004, at the age of 85, he announced that he would retire from the public domain. He died at home on December 5, 2013, at the age of 95. His body lay in state in Pretoria and a state funeral was held in Qunu. He was buried in the family graveyard in Qunu.