Sinkhole: Depositional Landforms
Small to medium-sized round to sub-rounded shallow depressions called swallow holes form on the surface of limestones through the solution. A sinkhole is essentially any hole in the ground created by erosion and the drainage of water. They are very common in limestone/karst areas.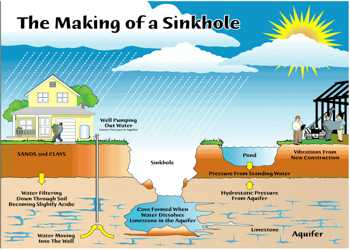 A sinkhole is an opening more or less circular at the top and funnel-shaped towards the bottom with sizes varying in area from a few sq. m to a hectare and with depth from a less than half a meter to thirty meters or more. Some of these forms solely through solution action (solution sinks) and others might start as solution forms first and if the bottom of a sinkhole forms the roof of a void or cave underground, it might collapse leaving a large hole opening into a cave or a void below (collapse sinks). Quite often, sinkholes are covered up with soil mantle and appear as shallow water pools. Anybody stepping over such pools would go down like it happens in quicksands in deserts. The term doline is sometimes used to refer the collapse sinks. Solution sinks are more common than collapse sinks. Quite often the surface run-off simply goes down swallow and sinkholes and flow as underground streams and re-emerge at a distance downstream through a cave opening. When sinkholes and dolines join together because of slumping of materials along with their margins or due to roof collapse of caves, long, narrow to wide trenches called valley sinks or Uvalas form. Gradually, most of the surface of the limestone is eaten away by these pits and trenches, leaving it extremely irregular with a maze of points, grooves and ridges or lapies. Especially, these ridges or lapies form due to differential solution activity in parallel to sub-parallel joints. The lapie field maw, eventually turns into somewhat smooth limestone pavements.