Moraines: Erosional Landforms
Moraines are accumulations of dirt and rocks that have fallen onto the glacier surface or have been pushed along by the glacier as it moves. They are long ridges of deposits of glacial till. Terminal moraines are long ridges of debris deposited at the end (toe) of the glaciers. They are long, sharply crested ridges made up of a mixture of sand, gravel, and rocks that have been deposited by a melting glacier. Lateral moraines form along the sides parallel to the glacial valleys. The lateral moraines may join a terminal moraine forming a horseshoe-shaped ridge. There can be many lateral moraines on either side in a glacial valley.
A ground moraine consists of an irregular blanket of till deposited under a glacier.
A terminal, or end, moraine consists of a ridgelike accumulation of glacial debris pushed forward by the leading glacial snout and dumped at the outermost edge of any given ice advance.
A lateral moraine consists of debris derived from erosion and avalanche from the valley wall onto the edge of a glacier and ultimately deposited as an elongate ridge when the glacier recedes.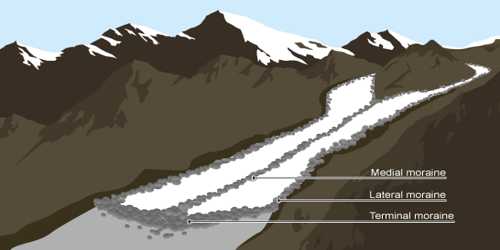 These moraines partly or fully owe their origin to glacial-fluvial waters pushing up materials to the sides of glaciers. Many valley glaciers retreating rapidly leave an irregular sheet of till over their valley floors. Such deposits varying greatly in thickness and in surface topography are called ground moraines. The moraine in the center of the glacial valley flanked by lateral moraines is called medial moraine. They are imperfectly formed as compared to lateral moraines. Sometimes medial moraines are indistinguishable from ground moraines.