Regional Variations in Precipitation in Indian Subcontinent
India is considered a humid country. Most humid countries are somewhat unbalanced; India is no diverse. Rainfall in India emanates from two main sources: Bay of Bengal branch and Arabian sea branch. Now, let see the regional variations in precipitation. While snowfall occurs in the Himalayas, it only rains over the rest of the country. Similarly, variations are noticeable not only in the type of precipitation but also in its amount. While Cherrapunji and Mawsynram in the Khasi Hills of Meghalaya receive rainfall over 1,080 cm in a year. Jaisalmer in Rajasthan rarely gets more than 9 cm of rainfall during the same period. India has four basic seasons: winter in January and February, summer from March through May, monsoon season from June through September, and an after monsoon period from October through December. Beginning from the month of June monsoon rains occur in intervals. The dry and wet spells of the monsoons vary in length, frequency, and duration causing floods and droughts at the same time in different regions.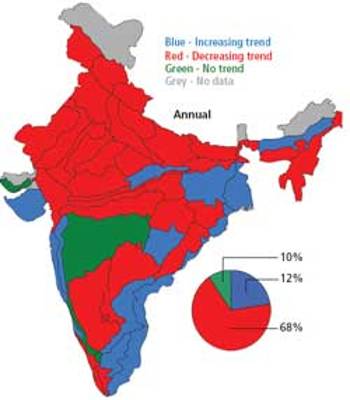 Tura situated in the Garo Hills of Meghalaya may receive an amount of rainfall in a single day which is equal to 10 years of rainfall at Jaisalmer. While the annual precipitation is less than 10 cm in the north-west Himalayas and the western deserts, it exceeds 400 cm in Meghalaya.
The Ganga delta and the coastal plains of Orissa are hit by strong rain-bearing storms almost every third or fifth day in July and August while the Coromandel coast, a thousand km to the south, goes generally dry during these months. Most parts of the country get rainfall during June-September, but on the coastal areas of Tamil Nadu, it rains at the beginning of the winter season.
In spite of these differences and variations, the climate of India is monsoonal in rhythm and character.